Historic Preservation
For technical problems with this page contact the webmaster
Last update June 22, 2013
HISTORIC PRESERVATION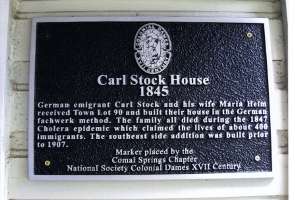 Historic Sites and Graves Marked by Texas:



1961 Woodsboro (Bayside Park) Exploration & Charting Texas coastline (1519).



1963 Northeast Texas. Restoration site of Rives Cemetery.



1965 Fort Concho (San Angelo). Restored officers' quarters (1867-1869).



1966 San Angelo. Jumano Indians on banks of Concho River.



1969 Sabine River (now Toledo Bend Reservoir). Sabine River Crossing.



1970 Ysleta (El Paso). Mission of Our Lady of Carmel (1682).



1976 Nacogdoches. El Camino Real (Kings Highway) (1691).



1976 Dean-Keener-Crim Home, Kilgore, oldest home in Kilgore, TX.



1977 Hopewell, VA. Graves of Thomas Rolfe and daughter, Jane Rolf Bolling.



1978 Mechanicsville, VA 1661 land grand to Thomas Meredith, Sr.



1978 Alexander Institute, Kilgore, TX.



1981 Progreso (Rio Grande Valley). Toluca Ranch (1880).



1983 San Antonio. Thomas Jefferson High School (1923).



1984 Kilgore I.G.N. Depot (later Missouri Pacific Depot).



1984 Christian Church, Peatown, Gregg County, TX.



1986 Salado. Stagecoach Inn.



1990 Nelson Family Cemetery. Bell County, TX.



1991 Lawrence Washington VA Col at Oakmont Cemetery, Denison, TX.



1992 Restland Memorial Park, Dallas, TX.



1992 Lend Pelton Magnolia Cemetery.



1992 Bonet Hightower, Magnolia Cemetery.



1992 Everlyn Cox Hightower, Idelwild Cemetery, San Angelo.



1992 Mrs. Ruby Hunt.



1992 Dallas Cemetery, Bell County, TX.



1992 Mrs. Harry W. Sherrieb.



1992 Hazel McCandler Cury Cemetery, Nacogdoches, TX.



1994 Restland Memorial Park, Dallas, TX.



1994 Midland Army 2nd Bombardier School.



1994 Dwight D. Eisenhower Birthplace.



1995 The Sophienburg Museum Sesquicentennial Marker dedicated April 27, 1995, by Comal Spring Chapter.



2004 Naegelin Bakery Historic Marker dedicated April 28, 2004, by Comal Springs Chapter. Oldest continuously operating bakery in Texas, since 1868.



2010 Carl Stock House Historic Marker dedicated June 22, 2010, by Comal Springs Chapter.



2010 Barnard's Mill Historic Marker dedicated September 12, 2010, by Thomas Joslin Chapter in Glen Rose, Texas, with the assistance of (L to R) Texas State Historian (2009-2011) Connie Zoch, State President (2009-2011) Marilyn Evans, Thomas Joslin Chapter Preservation Committee Chairman Joan Taylor, and Thomas Joslin Chapter President Elizabeth Ashley.